AMSOIL have taken control of their global online presence. AMSOIL is justifiably proud of its reputation amongst 'gearheads' for the quality of its synthetic motor oils, fuel additives and lubricants. As one of the few independently owned oil companies, AMSOIL recognizes the value of its brand and uses its website and social media for both B2B and B2C to manage their brand and intellectual property. Management were therefore particularly concerned with many of their export markets where they found their brand could be misrepresented.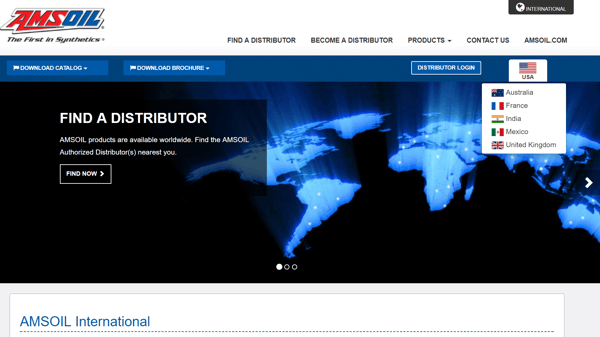 Going Global with Website Localization
AMSOIL and IBT Online discussed the online strategy and priorities: which markets should be addressed first and how should each market's specifications be addressed; what about social media roll-out and how should marketing be measured?
Five markets were identified as priorities for Amsoil's global online strategy. These were Australia, France, India, Mexico and the UK. When building the localized websites, IBT Online made use of existing AMSOIL design, brand and logo guidelines so that the new websites would align with the home market website in the USA.
Hear what Laurent Leduc has to say
Localized marketing support
Each website is tailored and optimized for its local market and is then supported going forward with a localized SEO program. Social media campaigns are also adapted for each market, identifying the best online media platforms and key words and best content to attract local followers. The social media campaigns are designed to kick off right from the start of each country website launch, making them an integral part of the AMSOIL international sales strategy.
For more information, check out AMSOIL's US website and watch this space as their global online presence grows over 2017.
John Worthington, CEO of IBT Online, said "We are truly excited about working with AMSOIL on this important project and look forward to a long and enjoyable relationship together as we help AMSOIL strengthen their brand and grow their international presence and exports in the coming months and years ahead."
Hear what Amber Gurske has to say