Reviewing online options
Management at All World Machinery Supply (AWM) knew it was time to update their website. Besides being unable to showcase all their product lines, the home website wasn't even mobile-enabled: a must in today's multi-platform business world. The company is also growing internationally and wanted to reflect their expanding global presence.
IBT Online first looked at AWM's domestic website: it needed some redesign to improve the ease of finding the more than 1,500 products. It also had to be fully responsive on all platforms – smartphones, iPads, portables…The branding remained true to AWM specifics, which helped minimize disruption for the AWM sales team. The new site was also extended to make sure AWM's customer base could find and get all the specifications of the mechanical parts and solutions that AWM supplies to the global industrial machinery marketplace.
Mexico is one of AWM's most important export markets so IBT built a website in Mexican Spanish that was fully tailored to the local Mexican market.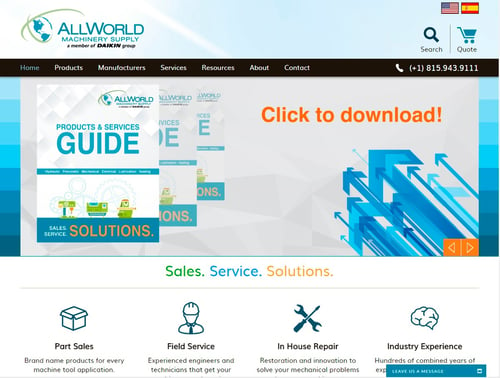 Multilingual SEO

There is no point in having fantastic websites if you don't use them. While the websites were originally designed for search engines to find AWM products easily, this optimization needs regular fine-tuning, so concurrent with launching the sites, IBT started a program of search engine optimization to help drive traffic to the local websites, including analyzing performance, key word planning and research. This program is constantly monitored and adapted as business objectives evolve.

Going Global Builds Brands and Grows Sales

Since the launch of the new websites in January 2016, All World Machinery has seen a significant increase in online orders and new business.

The Future Is Global Ecommerce

AWM are already thinking of the next step and asked IBT to develop a full e/mcommerce option, trialling a quote cart for 250+ products. This could not have been done before via the old website. The websites, optimized for their local markets, help AWM to build the brand awareness organically.

Returns on investment

David J. Koepp, President and CEO of AWM was pleased with the returns on investing in localized websites: "Our online traffic has blown away anything we have done in the past! We look forward to continuing our relationship with IBT Online". Indeed, there are plans to add more multilingual websites for other global markets in 2017 and beyond.

John Worthington, CEO of IBT Online, said "IBT has had the pleasure of working with David and the team in Illinois since back in 2015. We've really enjoyed delivering their complete online presence program for the USA and Mexican markets and localized search engine optimization (SEO). We very much look forward to continuing to support All World Machinery Supply as they further pursue their international growth strategy".