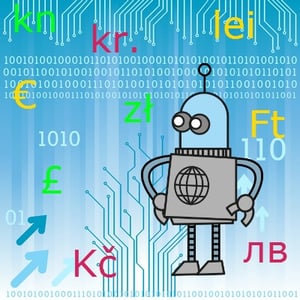 "Building a Capital Markets Union" is a European Commission (EC) "green paper" that launched earlier this year. The stated objective is how Europe can leverage its single market (it's always about single markets…) to improve financial services, consumer choice and, most importantly, access to capital for investment in European businesses, notably Europe's Small Medium Enterprises (SME). By 2019, so just 4 years away, the EC will present its legislative proposals to the European Parliament. The digital revolution has brought a wealth of improved consumer services and greater access to funding opportunities.
The 100 million Euro question, is how these enabling technologies, such as bitcoin, crowd sourcing and crowd funding (from 0 to >€7Bn in 10 years), can be harnessed to give consumers and businesses greater access to capital and to "make Europe a bigger, more efficient and better regulated capital market". It is a huge and exciting project, with enormous implications and the potential to help Europe recover much of the acknowledged deficit in economic growth, that has evaded it for the past decade.
The target audiences for Europe's Capital Market Union are i) the 500 million citizens and ii) the 25 million businesses. There are more than 25 million European businesses (including all those foreign owned subsidiaries) ranging from those few, but much talked about, multi-nationals that employ ten's of thousands of employees to the SMEs that provide 67% of the employment and 57.5% of the economic value added and, of course, the 9 million freelancers. The Lisbon Council for Economic Competitiveness and Social Renewal, is a really useful Brussels-based think tank and policy network. They produce many excellent reports including the recent "Financial services in the digital age" that is how "Leveraging Technology and Regulation to Achieve a Stronger Capital Markets Union". In the report they find that digital innovation in the financial-services sector impacts various categories of customers – from individuals to large corporations – in three critical areas:
1) Electronic and mobile payments, cryptocurrencies, electronic trading
2) Data analytics
3) Technology-driven alternative finance.
Click here to down load this really worthwhile, well informed study.
Back at the EC, we have the Directorate-General for Financial Stability, Financial Services and Capital Markets Union (DG FISMA). It is, of course, based in Brussels and with a staff of 380, is responsible for initiating and implementing Banking and Finance policy. In last year's EC Commissioner bartering process, this DG was awarded to Lord Jonathan Hill, an English man with a background in the PR industry and well-connected in the UK Conservative party, who became the Commissioner (2014/9). It is indeed useful for the UK that a Brit has this specific DG. Lord Hill recently stated that a "new digital and data technology is transforming the financial sector and challenging traditional business models. A FinTech revolution is under way".
The United Kingdom, led by London, positions itself as the unique location for companies specialising in technology applied to financial services (also known as FinTech) that is the investment, infrastructure, expertise. FinTech, that is the market in payments, platforms, software and data analytics is worth >£20 billion to the UK annually. Since 2008, the value of FinTech investment in the UK and Ireland region has increased almost 8 times to US$265 million in 2013. This makes the UK and Ireland the fastest growing regions for FinTech investment globally. The UK even created a new FinTech industry trade body called "Innovate Finance".
So this is where the Digital Single Market (see our blog) and the Capital Markets Union, come together, to ensure the spread of digital technologies within the financial sector and the further development of an open, vibrant and dynamic FinTech sector. Looking outside London and the UK, Ireland where can we find FinTech? Again, the dominance of the English language, in both the financial and technology sectors, helps those who adopted "English". The Nordics, (see our blog) are very active, especially Sweden and Stockholm which is clearly Europe's second FinTech city. In 2014, Stockholm accounted for nearly one-fifth (18%) of the total of $1.48bn FinTech investments across Europe, that is a third (32%) of all Sweden's total investments in private companies (which was $826m). Perhaps surprisingly, in Germany Berlin's tech scene is now up and running, the city is encouraging entrepreneurs, there may be a lack of financial industry, but FinTech is happening. France with Paris and Italy with Milan, both European tech hubs with financial expertise, do not yet seem to have a place in the European FinTech race, but that will change.