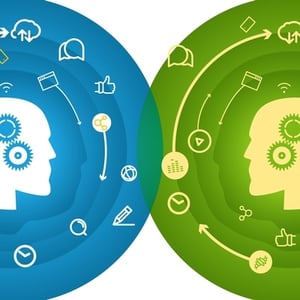 "Digital Minds for a New Europe" is an excellent collection of 44 extremely well informed articles concerning, you guessed it, Digital and Europe (two subjects about which I care strongly), both subjects holding much promise for a better future. Leading and diverse "digital minds" from the political, academic and business worlds share with us their vision to "boost a new digital Europe".
I give this work a serious like (two thumbs up). Start by reading the excellent Foreword by one of Europe's true heroines' Neelie Kroes (more on Ms Kroes below). Kroes thanks the crowd-sourced contributors and takes us back in time (a century ago, through world wars, and a quick technology recap…) to introduce us to the near future ("we are entering a whole interconnected, data-driven universe").
Waxing rather lyrical, Kroes warns us "New seeds will not sprout, nor saplings grow, if they have to fight for survival in the shades of old – but respected – trees and if they are surrounded by dense forests of regulation and hampered by persisting European fragmentation". This tells us where the compilation is going. Indeed, from the vantage point of Digital Commissioner, as she was, Kroes understands better than most, the challenges ahead for Digital Europe, and warns us: "Adapt or die".
For those of you who have not had the enviable pleasure of wading through the catalogue of political work achieved by this indefatigable European woman, born Neelie Kroes in Rotterdam, the Netherlands in 07.1941, here is a brief summary. Kroes has had two parallel successful careers, in politics and commerce. As a Dutch politician of the People's Party for Freedom and Democracy (VVD), she became Secretary of State and a Minister. In 2004, Kroes moved into a whole new level of European politics, where for 10 years she served in Brussels as a European Commissioner, 5 of them as Vice President in charge of the EU's digital agenda. Her term ended in 11.2014 and these big shoes were stepped into by Andrus Ansip, who takes up operational challenge of the Digital Single Market at the Commission. Kroes parting gift for the rest of us is a series of think-pieces "Digital Minds for a New Europe". In business, Kroes, earned her way on various boards, from banking (NIB) to burgers (MacDonald's) and shipping (Nedlloyd). Not about to kick-back, but rather continuing in the same vein, Kroes now leads StartUp Delta, the Dutch startup ecosystem, in which startups, investors, launching customers, governments and knowledge institutions work together to boost the startup ecosystem and connect it to other international startup hubs.
Now, having recognised Kroes for the great job done, let's dive back into the "Digital Minds for a New Europe". The Table of contents, with the ability to select, gets us where we need to go rapidly. Article titles range from e-government and cities, to why Europe cannot lag behind (you get the overriding concerns…) and on to security, with lots of embracing, educating, boosting, seizing and empowering. Each article stands on its own merits: interesting, relevant and well informed. Unable to choose by title, go straight to About the Authors, many of the names are immediately recognisable, including: Eric Schmidt, Vint Cerf, John Donahoe, Martin Sorrell, Werner Hoyer, Klaus Schwab, Maurice Levy, and David Putnam. There are excellent reads, some are interestingly contradictory, with many opinions and visions, although on occasion, there is a degree of over-riding self-promotion, something of a shame in the context. I confess to having read each one in order as presented! Overall, I found the broad themes of Digital and Europe, well addressed and in many instances appreciated the proposed recommendations, advice and solutions.
"Digital Minds for a New Europe", is instructive from a European business perspective. Kroes gives us her pragmatic recognition that "Europe needs to make real and daring choices to speed up innovation and become globally competitive. Fast growing, innovative companies are key to Europe's future". Sufficient space is given to the business focused articles, and it was those that particularly interested me. Eric Schmidt sets the tone stating: "Europe needs to accept and embrace disruption. The old ways of doing things need to face competition that forces them to innovate." So I have a series of recommendations, my top ten, for those of you with similar priorities, go straight to:
1) Embracing a new digital era in Europe, by Eric Schmidt – (a great big picture view, one that we might expect from the CEO of Google)
2) The secrets of our success: the Angry Birds story, by Kaj Hed (I always like personal accounts, biographies, and success)
3) No one left behind, by Martha Lane Fox (resorts to Tim Berners-Lee's guiding principles)
4) The next wave of the Internet, by John Chambers (somewhat self-promotional, but good information)
5) Boosting digital Europe, by Martin Sorrell (his five guiding principles are noteworthy)
6) Europe's future in the digital age: three paths to explore, by Maurice Lévy (worth a browse over, because of who he is..)
7) It's time to disrupt Europe: digital first, by Kumardev Chatterjee (great shake-it-up-stuff, numbers and stats)
8) Connected commerce: creating a more inclusive and prosperous economy, by John Donahoe (I quote: "The Internet provides an instant global connection to potential, willing buyers across Europe and around the world")
9) The smart, skilled European digital economy: Creating a marriage between industry and education, by Joanna Shields (UK orientated, pragmatic and useful)
10) A better Europe is a digital Europe – the digital opportunity ahead of us by Jim Hagemann Snabe (a good German viewpoint, calling for catch-up and action, important points)
For those of you looking for other angles, you will not be disappointed by the Roland Busch on European Cities, Lu Wei on EU-China, Rufus Pollock on Open Knowledge Societies and finally, why not close out with Archbishop Claudio Maria Celli on Truth in the Digital Era?