Online provides the solution
Hague Quality Water's export success has been built over time with different solutions found for different markets. HQW's routes to market vary from exclusive distributor in one market to tied agents and even subsidiaries in other markets. Nowhere is this mosaic more evident than across Europe. Management was searching for a way to support and organize all their partners and looked to online for a solution. IBT Online started with building localized websites in some of HQW's most important markets - check out www.haguequalitywater.eu/fr/accueil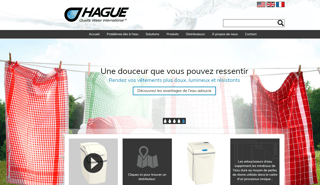 Social media is vital for HQW's sales process so when IBT Online built an initial European website, online marketing abilities were prioritized. After building the website, IBT is responsible for making sure online forums like Facebook stay fresh, relevant and effective for lead generation.
Distributors and in-market partners welcomed the additional marketing support and leads that the websites generate and have even started contributing regularly themselves. Chris Grosely, Director of Marketing for HQW, says the feedback from his distributors has been positive, with lots of lead generation and great support from the localized websites:
Nurturing the brand online
Part of HQW's challenge is their multi-channel sales - they sell to B2C, B2B and also need to reach building specifiers. For each of these types of clients however, reputation is essential. Nurturing the HQW brand is therefore a vital key to the sales process. Effective campaigns rely on demonstrating HQW's successful track record and know-how, sharing their expertise about their industry. HQW is a recognized go-to-provider for solutions, a reputation maintained and nurtured by its commitment to localized websites and marketing.
If you would like to learn more about localized websites and international marketing, contact us: