go global webinar Series: Doing Business in BRazil
Register for this webinar to find out how you can use online and offline tools to tap into the exciting Brazilian market.
Brazil is the largest economy in South America, so its no wonder exporters have Brazil firmly in their sights. But while its size and potential growth are tempting, Brazil is a difficult market to navigate.
Insights and opportunities:
Doing business in Brazil
Distributors and local partner choices
Online Environment: How Brazilian businesses use websites and social media
Localized websites helping local distributors
Brazilian social media use for businesses
Case studies - successful businesses tapping into the Brazilian market
Polls and surveys:
Attendee participation and feedback
Takeaways:
The presentation, polls, survey and lots more to grow your exports and business internationally
Twitter hashtag:
#IBTWebinar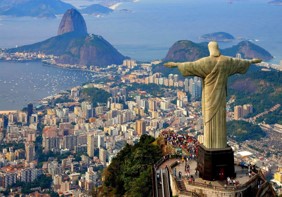 Meet the experts:
Samantha Soffici
Online Business Development Manager, IBT Online

Samantha works with companies that are looking to increase their international presence. By understanding their routes to market and their international business objectives, Samantha helps steer the company towards the appropriate online tools that IBT Online offers. At home in North and South America, Samantha is an expert in the international world.

Susanna Hardy
Director Client Services, IBT Online

Susanna heads up global operations focusing on helping companies use the internet and the IBT Online Global range of services to develop their businesses internationally. Susanna brings her expertise in international business development and marketing to the IBT Online team and has worked with a wide spectrum of companies to reach, develop and succeed in export markets. Susanna has spent her career developing international businesses for companies.

Fabio Yukio Yamada
Managing Director, Tradebrz - Trade and Investment Promotion

Fabio is the Director of Tradebrz. Fabio has 35 years of experience in business development with top international corporations such as Chemical Bank, Johnson & Johnson, and Du Pont. Fabio has also worked as an MBA Professor in São Paulo and Allentown (Lehigh University - PA) and as Director of University of Pittsburgh's EMBA Program in Brazil from 2005 to 2007.

Since July 2001, Fabio has been engaged in the representation of US States in Brazil and private corporations, working with more than 250 different companies per year to promote their exports and in the attraction of South American companies to the USA.
IBT Online

IBT Online provides website localization and international online marketing services to help companies grow their sales, brands and businesses online globally. We are proud to serve companies to help them expand their online presence and boost their international business.