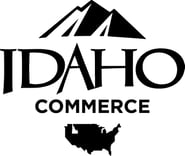 IDAHO Online Global

programs: DIGITAL TOOLS to Help you grow your EXPORTS, sales, brand and business
Online business development tools have never been so important for businesses in the 'New Online Normal'.
Learn from Tina Salisbury, Senior International Trade Specialist and STEP Grant Project Director at Idaho Department of Commerce what they are doing to help Idaho companies navigate the 'New Online Normal'.
Grants and funding available.
IBT Online works with Idaho Department of Commerce to deliver Idaho Online Global Programs - Website Localization and Online Marketing for Idaho companies.
Join us as we share expertise and experience in delivering localized websites and online marketing to help you grow your exports, sales, brand and business.
Make the internet work for you globally.
Insights and opportunities:
Why Idaho companies need localized websites and what are they
Be found, be understood, do business in your target markets
Best-practice, optimally localized business development websites
SEO, Social Media Marketing, Reporting and Analytics
Grow traffic, engagement and conversions
Connect with your customers, increase brand awareness
How to help your international distributors and in-market partners
Boost your leads and sales in your target markets
Sell online with ecommerce
Case studies - how Idaho companies are using online tools today
Idaho Online Global Programs and grants – how to apply and how they help
Polls and surveys:
Attendee participation and feedback.
Takeaways:
The presentation, polls, survey and lots more to grow your exports, sales, brand and business online and globally.
Twitter hashtag:
#IBTWebinar
Meet the Idaho Experts:
Tina Salisbury
Senior International Trade Specialist and STEP Grant Project Director at Idaho Department of Commerce

In July 2015, Tina Salisbury joined the Idaho Department of Commerce to further the mission of driving Idaho's economic growth. Tina is part of the International Team at Idaho Commerce promoting Idaho to the world for exports and business recruitment. She is the Project Director for the State Trade Expansion Program (STEP Grant). She also facilitates inbound investment by establishing and maintaining relationships with overseas trade associations and foreign governments and matches Idaho companies with foreign business partners through the assistance of Idaho's trade offices in Mexico, China and Taiwan. Tina also conducts business consultations with companies concerning international business strategy and market research, supports and coordinates companies' efforts to market themselves through events such as trade shows, trade missions and seminars.

Tina holds a B.S. in Biology from the University of Idaho. She has held numerous volunteer positions over the years. However, Tina's highest priority and greatest accomplishment is her family including husband Steve and daughter Delaney.


Susanna Hardy
Chief Content Officer, IBT Online

Susanna serves as Chief Content Officer at IBT Online and is involved in all aspects of content used in effective business online tools, from content creation to content optimization for search engines and online marketing. Susanna brings her expertise in international business development and marketing to IBT Online. Recognizing the importance of content for building brand awareness and sales, Susanna helps companies to ensure their online presence is working hard for them.

Samantha Soffici
Online Business Development Manager, IBT Online

Samantha works with companies that are looking to increase their international presence. By understanding their routes to market and their international business objectives, Samantha helps steer the company towards the appropriate online tools that IBT Online offers. At home in North and South America, Samantha is an expert in the international world.

IBT Online

IBT Online provides website localization and international online marketing services to help companies grow their sales, brands and businesses online globally. Our Online Global programs (website localization, international online marketing and website management) makes sure your company gets found, understood and is easy to do business with across international markets.