Dominican Republic: Trade mission and online tools for Florida exporters
Insights and opportunities:
Dominican Republic trade mission details and logistics
Doing business in the Dominican Republic
Gateway to the Caribbean
Distributors and local partner choices
Dominican Republic online
How Caribbean businesses use websites and social media
Localized websites helping local distributors
Social media use for businesses
Enterprise Florida Online Global Program
Case studies - how Florida companies are using the web today
Next steps for a successful trade mission
Polls and surveys:
Attendee participation and feedback
Takeaways:
The presentation, polls, survey and lots more to grow your exports and business internationally
Twitter hashtag:
#IBTWebinar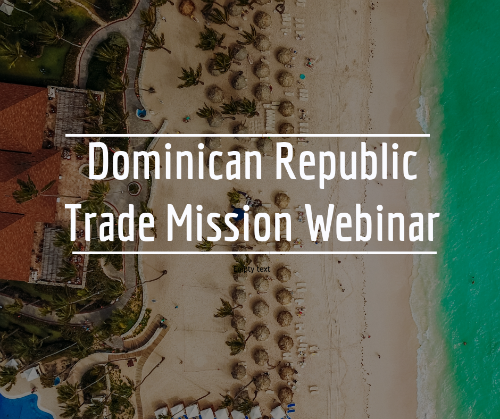 Meet the experts:
Samantha Soffici
Online Business Development Manager, IBT Online

Samantha works with companies that are looking to increase their international presence. By understanding their routes to market and their international business objectives, Samantha helps steer the company towards the appropriate online tools that IBT Online offers. At home in North and South America, Samantha is an expert in the international world.

Alejandra Henao
Manager, Latin America & Caribbean, Enterprise Florida, Inc.

Alejandra works at Enterprise Florida as an International Trade and Development Manager for the Latin American & Caribbean region. She has an impressive resume with ample international development experience at multilateral, government, and social organizations level. She has worked for the US Department of Commerce, Organización de los Estados Americanos, and the Atlas Corps in Colombia, so international is second-nature to her.

Christopher Munoz
International Trade Manager for Enterprise Florida

Chris works at Enterprise Florida as an International Trade Manager assisting Florida-based companies looking to expand internationally, where Chris focuses on reviewing market readiness, target market selection and research and problem solving assistance. Previously, Chris worked for Hewlett Packard Enterprises where he helped to establish the business development channel throughout Florida, Puerto Rico and the Virgin Islands.

Sheila Diaz de Andujar
Senior Commercial Specialist, CS Santo Domingo, Dominican Republic

Sheila joined the U.S. Commercial Service at the U.S. Embassy in Santo Domingo in 1997 where, among her responsibilities, she serves as the Senior Commercial Specialist for the Dominican Republic, contributing to the design of the strategic planning for the office. Sheila is responsible for managing trade facilitation programs, intellectual property rights, free trade agreements and trade barrier issues as well as focusing on key industry sectors.

Daisy Ramos-Winfield
Executive Vice President, Florida Export Finance Corporation (FEFC)

Daisy Ramos-Winfield is the Executive Vice President of the Florida Export Finance Corporation (FEFC) which is a not-for-profit corporation formed, funded and sponsored by the State of Florida. She has over 20 years of diversified experience in banking and under her leadership FEFC was awarded the 2017 EXIM Bank REPP of the year. In 2016 alone FEFC posted 43 EXIM Bank seminars and workshops that led to 69 Export Credit Insurance referrals and 20 applications.
IBT Online
Florida Online Global Program

IBT Online provides website localization and international online marketing services to help companies grow their sales, brands and businesses online globally. We are proud to serve Florida companies to help them expand their online presence and boost their international business.